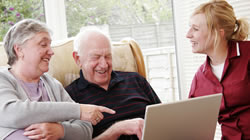 These are the non-medical services that are currently offered through the team of caregivers at Chavera Home Care.
Bathing & Personal Hygiene
Cheerful Companionship
Grocery Shopping
Meal Preparation
Light Housekeeping
Respite Care for family needing a break
Recuperative Care
Non-Medical Transportation
Day/Night Services
We give our clients a chance to hand-select their caregivers from our pre-screened staff. Chavera Home Care strives to make clients feel secure in choosing the professional caregiver who will be invited into their home. We know how sensitive this subject can be. That is why we give our home care clients as much control as possible.
We are committed to serving our neighbors and friends with extremely affordable and competitive rates. The balance is paying top quality performers while allowing you affordable rates- the ultimate win-win situation. Details such as taxes, liability insurance, background checks and training are all areas you will not have to worry about because Chavera Home Care does this for you. All YOU have to do is enjoy Chavera Home Care services!